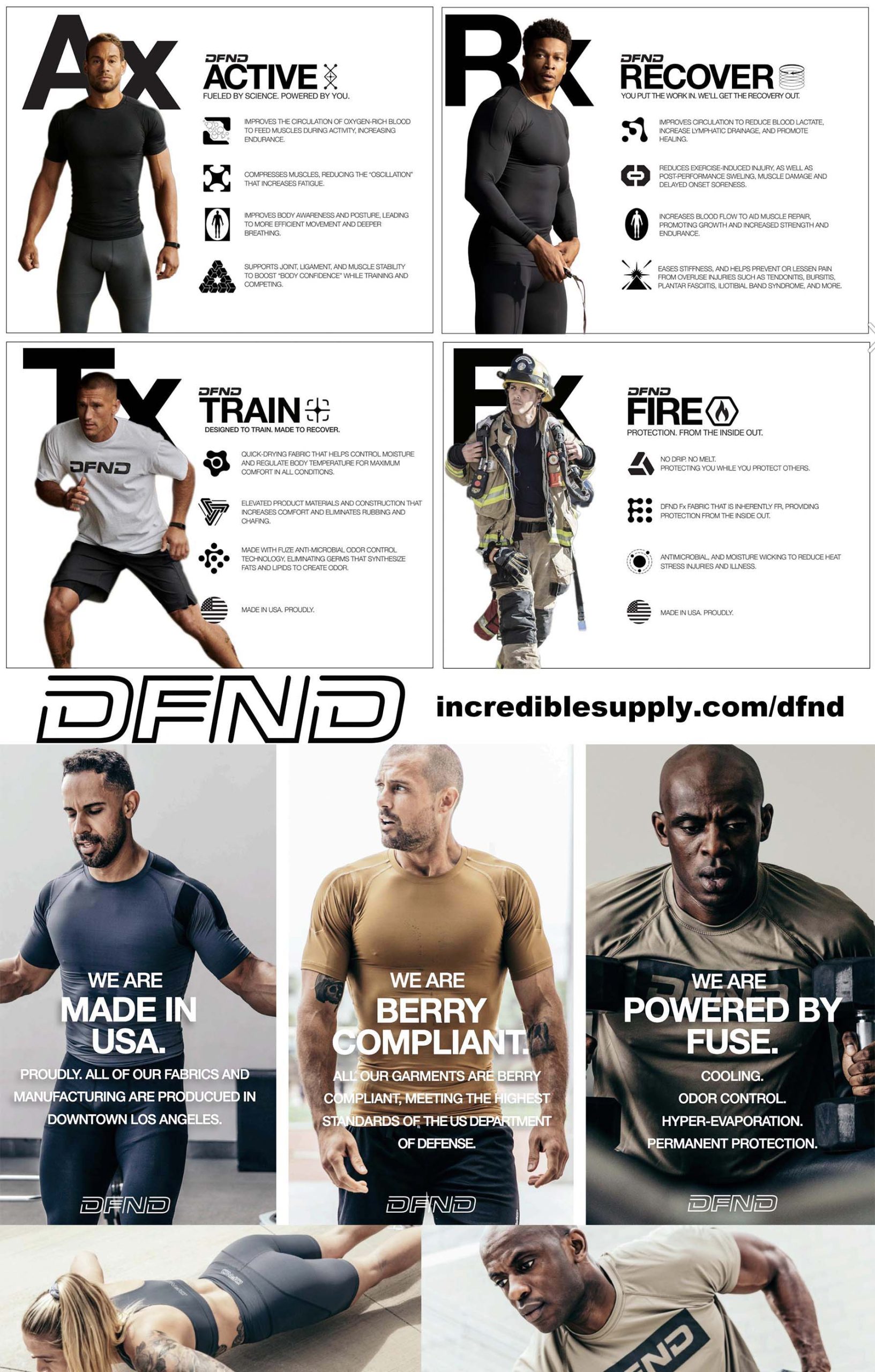 ** All solution components are not represented in the above visuals, Contact ISL for solution details.
DFND Performance Apparel Solutions
Type of Solution
Mission & Training Solutions
Part Number
DFND MC218 and more
Solution Pricing
Contact for Details
Number of Parts
100+ parts
Solution Items Include
ISL DFND Men's and Women's Performance Apparel Expertise
Compression: Shirts, Sports Bras, Shorts & Tights
Training: Shirts, Graphic Ts, Polos, Pants, Shorts, Fleece, & Jackets
Fire DFND: FR Compression, FR Shirts, FR Shorts, FR Boxers, FR Long Johns, FR Polos & FR Gaiters
Infrared Sleepwear: IR SS Sleepwear, IR LS Sleepwear, IR Sleepwear Long John, IR Rest & Recovery Hoody, & IR Rest & Recovery Jogger
Solution has a base set of approved products but is completely customizable for your mission or unique requirements

Solution Description
Each ISL DFND 100% Berry Compliant Performance Apparel Solution is customized for each customer (including the management of brand customizations) and their specific program requirements. These include men's and women's graduated compression, custom training gear, FR (Fire Resistant) base layer gear & clinically tested sleepwear.
ISL also provides ONE SOURCE for all the other mission equipment, gear, and components to ensure mission success with an easy, cost-effective total solution for each customer.
Contact for Details
Complete and submit the form below and we will reach out about the following kit:
*ISL requires contact information be from Agency, Military or Private Company Organizations email addresses doing business on behalf of the Federal Government for response and quote.
THE MISSION REPORT

ISL NEWSLETTER & PROMOTIONS