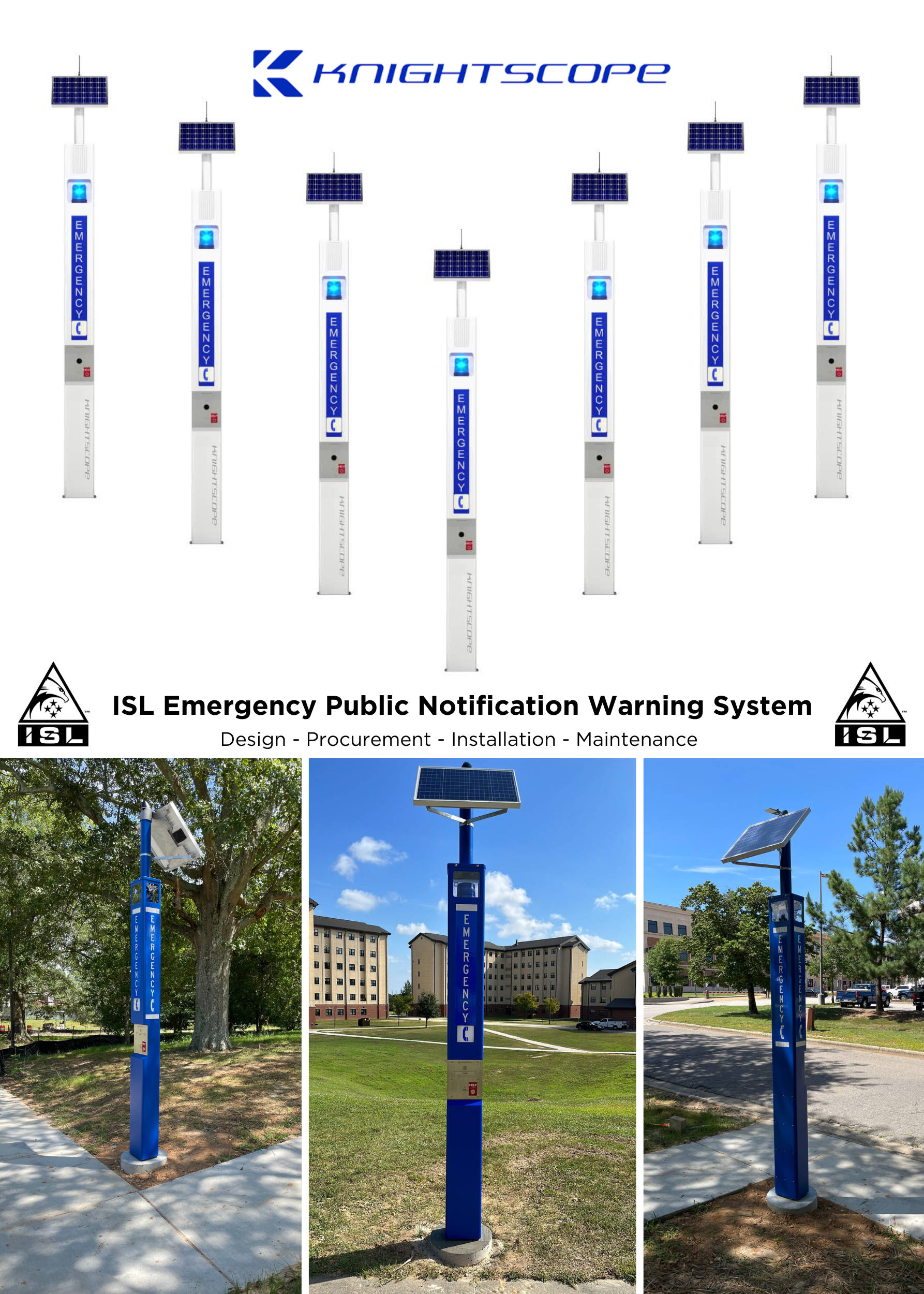 ** All solution components are not represented in the above visuals, Contact ISL for solution details.
Emergency Public Notification Warning System
Type of Solution
Mission & Training Solutions
Solution Pricing
Contact for Details
Number of Parts
25 parts
Solution Items Include
Knightscope K1 Blue Light Tower (Options Include)

Call Button, & Mass Notification Speakers
Strobe Light, & LED Area + Face Plate Lights
Faceplate Camera
Wireless Service from Verizon, AT&T, Iridium and other providers

Other solution components
Site Design, Procurement, Installation & Maintenance
Contact ISL to speak with an expert to discover all the benefits of the ISL Emergency Public Notification Warning System, and how it will add value to your security program.
DLA TLS & S2P2 Ready
Solution has a base set of approved products but is completely customizable for your mission or unique requirements

Solution Description
The ISL Emergency Public Notification Warning Systems (EPNWS) featuring the Knightscope K1 Blue Light Emergency Towers provides a complete solution from design, procurement, installation, and maintenance of a customized wireless emergency communication system for your environment.
Contact for Details
Complete and submit the form below and we will reach out about the following kit:
*ISL requires contact information be from Agency, Military or Private Company Organizations email addresses doing business on behalf of the Federal Government for response and quote.
THE MISSION REPORT

ISL NEWSLETTER & PROMOTIONS