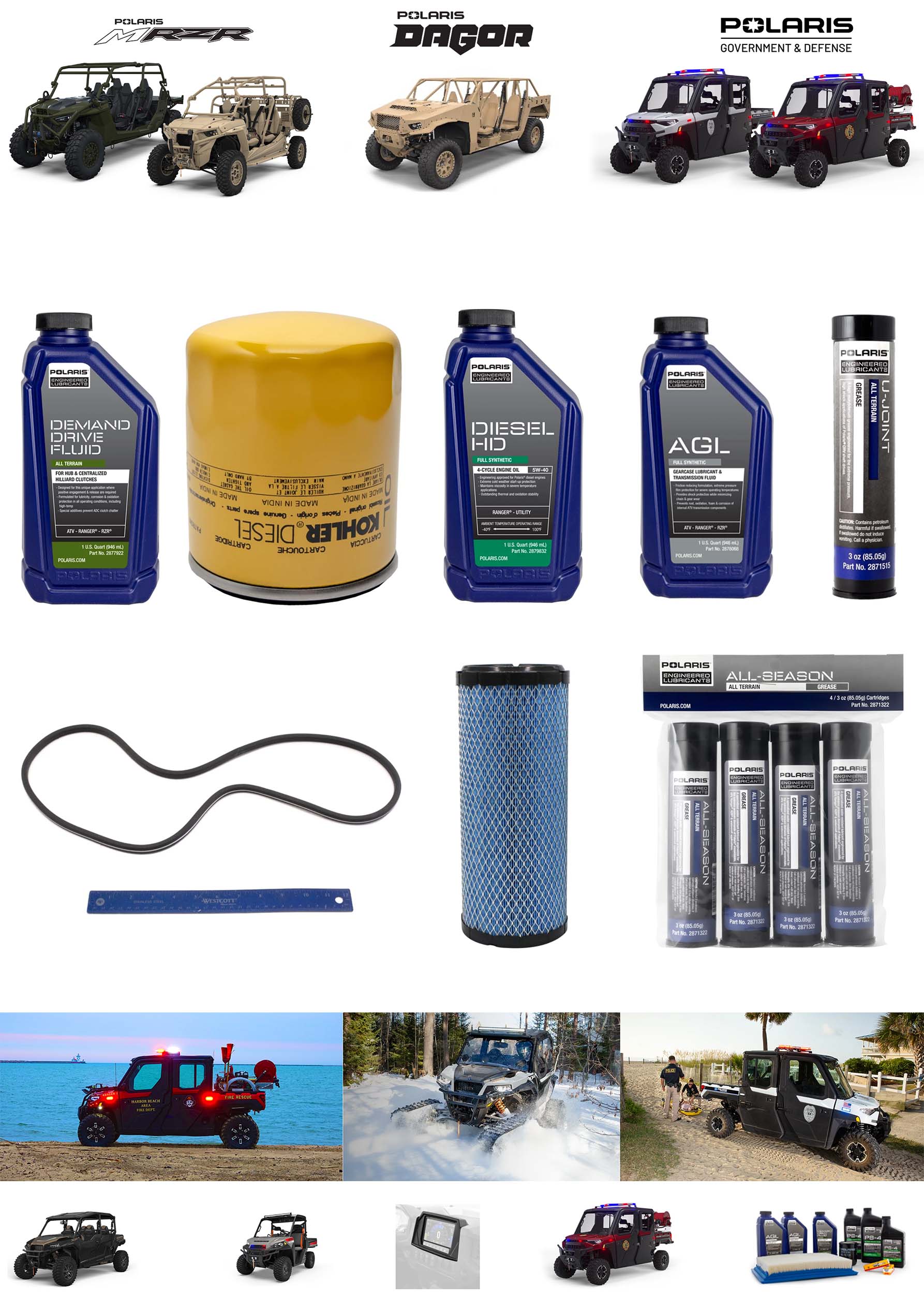 ** All solution components are not represented in the above visuals, Contact ISL for solution details.
Polaris Maintenance and Service Ensemble
Type of Solution
Mission & Training Solutions
Solution Pricing
Contact for Details
Number of Parts
20+ parts
Solution Items Include
Maintenance and service fluids, coolants, filters, lubricants, seals, and more servicing:
Polaris DAGOR, MRZR, Sportsman – (Military)
Polaris Ranger, Pro XD, RZR, Sportsman – (Commercial & Government)
Polaris Snowmobiles – (Commercial & Government)
Solution Products Include: Engine Oil, Engine Coolant, Intake Coolant, Oil Filter, Fuel Filter, Air Filter, Hydraulic Fluid, Gearcase Lubricant, Transmission Oil, Transmission Lubricant, Brake Fluid, Power Steering Fluid, Control Arm Bushings, Shock Oil, Shock Seals, Grease Fittings, U-Joint Lube, Shock Spanner Wrench, Oil Filter Wrench and more.
Polaris Technical & Driver Training
DLA TLS & S2P2 Ready
Solution has a base set of approved products but is completely customizable for your mission or unique requirements

Solution Description
The ISL Polaris maintenance and service ensemble includes all of the fluids, coolants, filters, lubricants, seals, and more for scheduled maintenance across DAGOR, MRZR, Sportsman, RANGER, Pro EX, RZR, and Snowmobile vehicles.  Scheduled service requirements are specified in the vehicle manual and will result in improved readiness and a reduction in field failures.
Contact for Details
Complete and submit the form below and we will reach out about the following kit:
*ISL requires contact information be from Agency, Military or Private Company Organizations email addresses doing business on behalf of the Federal Government for response and quote.
THE MISSION REPORT

ISL NEWSLETTER & PROMOTIONS