INCREDIBLE SUPPLY & LOGISTICS (ISL) ACHIEVES ISO 9001: 2015 CERTIFICATION
Jun 29, 2018
Virginia Beach VA – June 29, 2018 PRnewswire/ – Incredible Supply and Logistics (ISL) an award winning MRO, fleet, safety, and industrial supply distributor today announced it has achieved the ISO 9001: 2015 Certification through 2021. ISL previously earned the certification under ISO 9001:2008 and has been certified since 2012.
"We are proud to earn certification ISO 9001:2015. ISL is committed to continually improving our Quality Management System, to maximize our operational efficiencies and increase the service levels we provide to our customers around the globe", said Bayne Keenan, Vice President, Operations at ISL.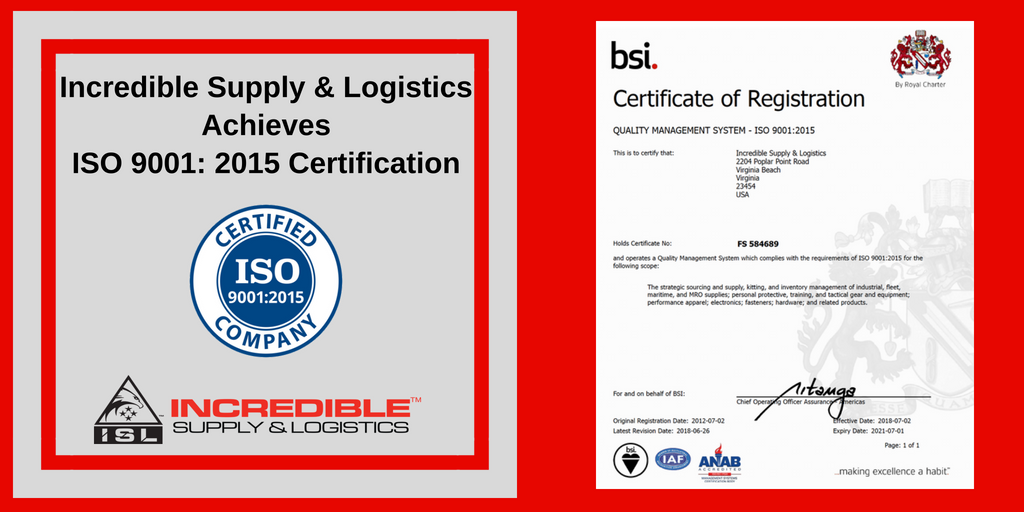 International Organization for Standardization (ISO) 9001 is the international standard that specifies requirements for a quality management system. The ISO 9001: 2015 certification is based on the plan-do-check act methodology and provides a process-oriented approach to documenting and reviewing the structure, responsibilities, and procedures required to achieve effective quality management in an organization. The changes that were made to the 2015 certification were designed to ensure that ISO 9001 continues to adapt the changing environments in which organizations operate.
About Incredible Supply & Logistics (ISL)
ISL is a certified U.S. small business, DOD EMALL and GSA Schedule Holder (GS-21F-0025Y) offering a full range of logistics and product distribution services serving the Federal, Defense, State and Local Government and Maritime communities. The ISL team combines unmatched fleet, maritime, MRO, tactical, information technology and industrial supply expertise and an extensive knowledge of the government procurement and defense shipping process. ISL provides global product and logistics solutions within the U.S. Department of Defense (DOD), Federal Civilian Agencies, Homeland Security, Intelligence Agencies, State and Local Governments, select commercial markets and is the trusted partner to organizations worldwide. For more information, visit http://www.incrediblesupply.com.
Contact Information
Chris Richards
Incredible Supply & Logistics (ISL)
+1.757.955.8077
crichards@incrediblesupply.com
THE MISSION REPORT

ISL NEWSLETTER & PROMOTIONS