"THE INCREDIBLES" – ISL FEATURED AS THE COVER STORY IN INDUSTRIAL DISTRIBUTION MAGAZINE
Dec 17, 2018
THE INCREDIBLES
INCREDIBLE SUPPLY & LOGISTICS CONTINUES TO MAKE ITS MARK AS A DISTRIBUTION LEADER.
By Rachelle Blair-Frasier (link to December 2018 Print & Digitial Editions)
From its humble beginnings in company cofounder Chris Faison's garage just eight years ago to more than $16 million in annual sales, Incredible Supply & Logistics is a small business with a big vision.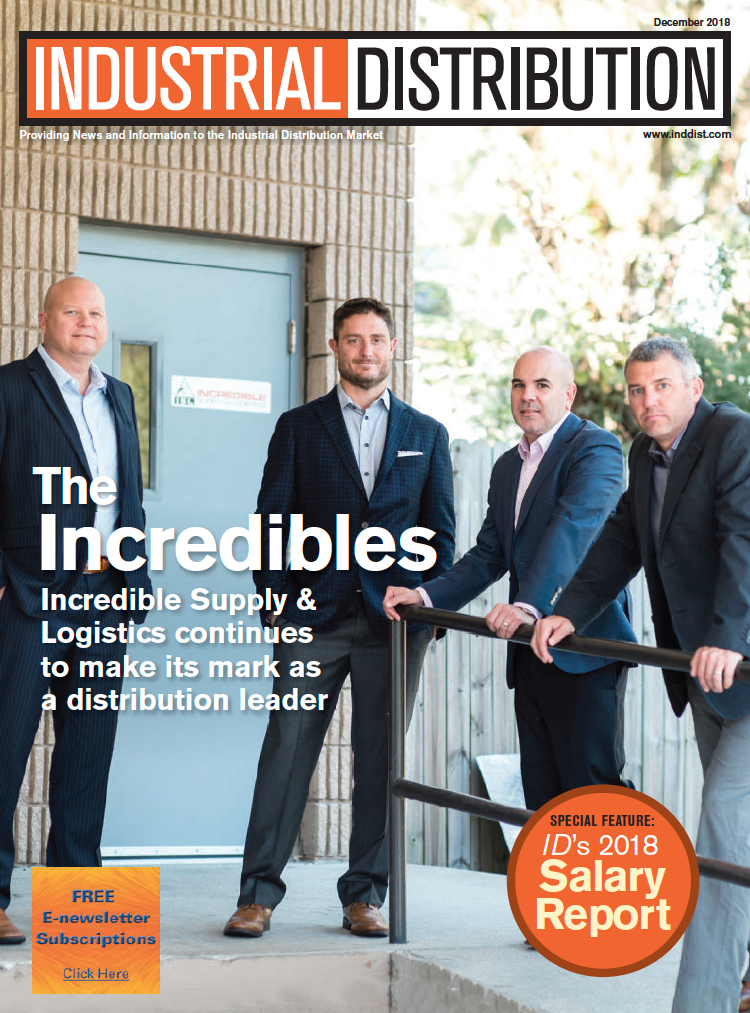 Chief among those goals is ensuring that U.S. military and defense contractors stay stocked up on all of the materials they need, whether it's an ice machine, MRO products, or fleet supplies for armored vehicles.
The story of ISL began in 1997 when Faison was recruited by a friend to work part-time at one of the largest industrial suppliers. From there, he worked his way up to assistant branch manager, branch manager, and eventually district manager. Through his work there, Faison got introduced to working with the U.S. military by working with customers that built Mine-Resistant Ambush Protected (MRAP) vehicles for the military.
Faison says he was very fortunate to help customers take their business from where it was—basically non-existent—to where there were eight employees on site managing all their production fasteners and MRO items for the MRAP program.
"It was very exciting," Faison says. "But, what happened was they were so busy building trucks there was a huge back log to get fasteners overseas to repair the vehicles that were already in the field. As you can imagine, these guys were building trucks as quickly as they possibly can, while the ones overseas were getting blown up, damaged, need maintenance, whatever it may be. But the manufacturer was too busy to ship the fasteners."
That's when the customer asked Faison and the industrial supply company to start fulfilling all the fastener requirements for the Defense Logistics Agency (DLA). "That's really how I learned about working with the government, shipping, packaging, and everything," Faison says.
GROWING A BUSINESS
Eventually, Faison longed for something new and in 2010 decided to embark on a new endeavor: starting his own business.
"I started selling nuts and bolts out of my garage to support the MRAP program and get those vehicles out on the road to protect the troops," Faison says.
Growing up in Virginia Beach, a large military community, Faison felt a sense of pride in his work supporting the troops overseas. However, starting a new business during one of the most challenging economic times in U.S. history was also a risk, Faison admits. "It probably wasn't the best time to start a business with a wife and family," Faison says. "But I knew there was a demand and saw an opportunity. Having your family behind you is just so critical. My wife is a saint and she's a big part of that success. If my family wasn't behind me I don't think we would have made it and that means a lot to me."
Shortly after starting ISL, Faison began reaching out to defense contractors and explained that he was selling fasteners to the DLA and offered they work through his company for all their MRO items. ISL's business now boils down to 75 percent defense contractors, 20 percent directly through the federal government through contracts (such as the Coast Guard and Department of Homeland Security), and some local government
"We started working with the defense contractors and we've grown every year since inception," Faison says. "And we're going to continue to grow; we know exactly where we want to be."
In 2014, Inc. 5000 named Incredible Supply & Logistics the 154th fastest growing company in America. The company was also featured on ID's 2018 Watch List which shines a light on companies that are the "ones-to-watch" outside of the 50 biggest MRO distributors. Two years ago, Faison and the rest of the ISL executive team—which consists of Bayne Keenan, vice-president of operations; Bob Faison, chief financial officer; and Jeff Moody, vice-president of sales—sat down and hammered out their five-year goals. One of those goals was to become a $50 million company by 2021.
And ISL is well on its way, going above and beyond mile markers to achieve what they call the "Mount Everest Climb." "In 2017 we reached our goals and in 2018 we're going to far exceed our goals, so we are well ahead of pace for the Everest climb," Faison says.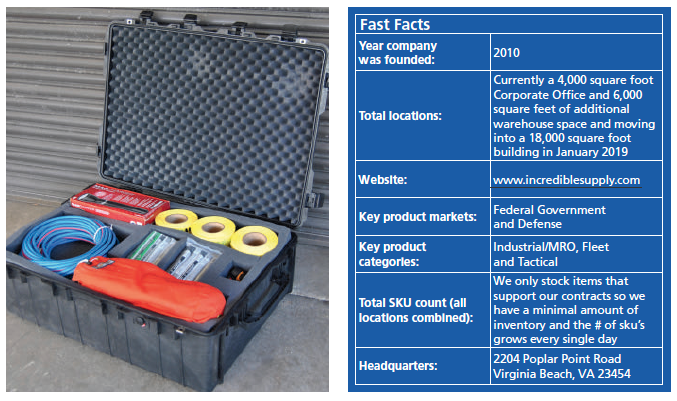 NOTHING THEY CAN'T FIND
The motto at Incredible Supply & Logistics is "If we don't carry it, we will get it" and that's really been the key to the company's success. No items are too small, too big, or too unusual for their team to locate for customers.
That's what sets ISL apart from the competition. "With defense contractors, the things that come across the procurement agent's desk is always different," Faison says. "We're not selling a lot of the same material over and over again like a lot of distributors. Very seldom do we sell the same thing twice."
"We're not selling a lot of the same material over and over again like a lot of distributors. Very seldom do we sell the same thing twice."
Defense contractor procurement agents receive requisition requests directly from the field—such as Iraq, Afghanistan, Kuwait, and Africa. The bill of materials could be just a few items or it could be 100.
"What separates us is our ability to source that entire bill of materials from top to bottom," Faison says. "And we can do it top to bottom more quickly and cost-effectively than all of our competition and that's why we are successful. It's our uncanny ability to source a wide variety of items more quickly and cost-effectively."
Walking through ISL's warehouse, you never know what products you may run into, whether it's the typical industrial, MRO, and fleet supplies or a pallet of Sony PlayStations. Faison recalls one order that called for a 24-foot ice vending machine that dispenses five-pound bags of ice.
"It was going to one of the military installations overseas and we were instrumental in not only selling it, but getting it installed, and all the wiring being converted," Faison says.

GROWING PARTNERSHIPS
One such requisition request sent the company down the path of the clothing business with ISL Custom, a private e-commerce buying service that is a division of Incredible Supply & Logistics. A customer reached out to ISL with a requisition of $750,000 worth of uniforms—everything from tactical pants to winter jackets to chef coats
"It's a huge undertaking and our customer had had problems with it in the past, so we decided to take on the challenge and it was executed flawlessly," Faison says. "It's been a huge win-win."
Through a partnership with Dickies and other performance clothing manufacturers, ISL Custom can provide specialty embroidery and screen-printing solutions on high performance workwear, apparel, gear, and equipment. ISL Custom serves the unique needs of the U.S. Federal, Defense, Homeland Security, state, and local government, and defense contractor community.
MOVING ON UP
ISL is growing at a steady pace and doesn't show any indication of slowing down. In fact, the day of our interview, Chris Faison had just signed a lease for a new 18,000-square-foot facility in Virginia Beach. That's quite a step up from ISL's current combined 10,000-square-foot headquarters and warehouse space.
Faison says the move will be a huge undertaking, but his team is ready."In January we're moving to a brand new building, we're doubling in size," Faison admits. "We're all super excited about it." In addition to more space, the new facility will also house an onsite gym for workers to utilize. "Our team likes to take good care of themselves and this will be a huge benefit for folks to stay healthy," Faison says. Not only has ISL been growing steadily in terms of products sold and space needed, the company has also been bringing in talented workers increasing from just 12 earlier this year to 20.
"When I started ISL and people started seeing what we were doing, we had a long pipeline of people that wanted to come work for us," Faison says. "We were fortunate that we were able to pick and choose the smartest and brightest around that already have industrial supply experience. People are taking pay cuts to get their foot in the door because they understand the direction we're heading. We couldn't be more pleased with our team. They tell you to hire people smarter than you, I've done that a lot this year."
"We couldn't be more pleased with our team. They tell you to hire people smarter than you, I've done that a lot this year."
Faison says ISL could continue to grow for several years just by maintaining the company's current customer base but obviously, he's always on the lookout to bring new customers into the fold.
"The opportunity is just endless," Faison says. "We're not even scratching the surface, and we're growing as fast as we can keep up with."
THE MISSION REPORT

ISL NEWSLETTER & PROMOTIONS