INCREDIBLE SUPPLY & LOGISTICS (ISL) NAMED ONE OF THE BEST PLACES TO WORK IN VIRGINIA 2019
Feb 04, 2019
Virginia Beach, VA – February, 4 2019/PRNewswire Incredible Supply and Logistics (ISL) an award-winning MRO, fleet, safety, and industrial supply distributor was named as one of the 2019 Best Places to Work in Virginia. The annual list of the Best Places to Work in Virginia was created by Virginia Business and Best Companies Group.
This statewide survey and awards program is designed to identify, recognize and honor the best places of employment in Virginia, benefitting the state's economy, workforce and businesses.
"We are honored to receive the recognition as one of the best places to work in Virginia," said Chris Faison, CEO and President of ISL, "Our amazing employees are the foundation of our sustained success, helping our customers and partners achieve their missions throughout the globe."
"We are proud and thankful to receive this recognition," said Bob Faison, COO, of ISL. "ISL is dedicated to providing our employees with programs, benefits and a unique corporate culture that promotes opportunities for career growth, a healthy work-life balance and an exceptional workplace."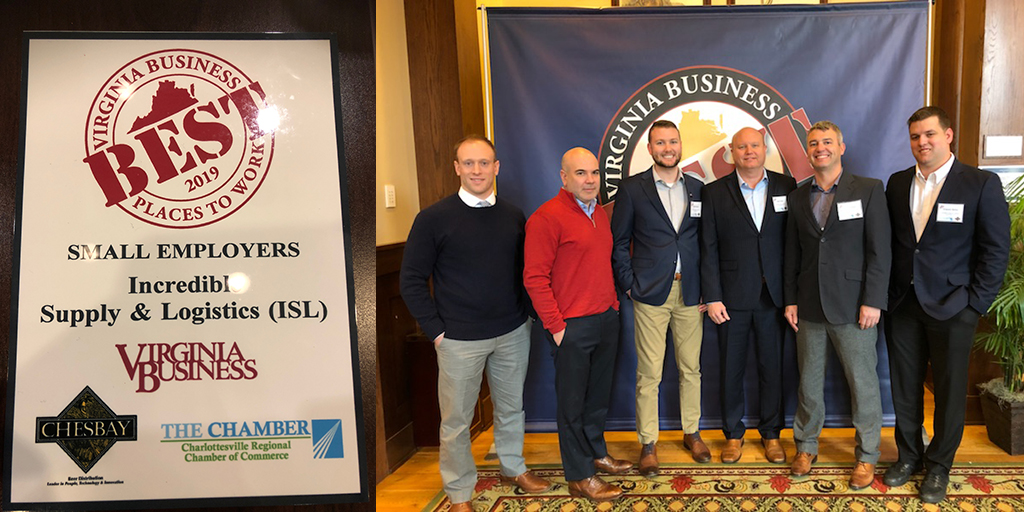 Companies from across the state entered the two-part survey process to determine the Best Places to Work in Virginia. The first part consisted of evaluating each nominated company's workplace policies, practices, philosophy, systems and demographics. This part of the process was worth approximately 25% of the total evaluation. The second part consisted of an employee survey to measure the employee experience. This part of the process was worth approximately 75% of the total evaluation. The combined scores determined the top companies and the final ranking. Best Companies Group managed the overall registration and survey process in Virginia and also analyzed the data and used their expertise to determine the final ranking.
The final rankings were announced at an awards luncheon on Feb. 1, 2019, at the Boar's Head Inn in Charlottesville.
For more information on the Best Places to Work in Virginia program, visit http://www.bestplacestoworkva.com.
About Incredible Supply & Logistics (ISL)
ISL is a certified U.S. small business, and GSA Schedule Holder (GS-21F-0025Y) offering a full range of logistics and product distribution services serving the Federal, Defense, State and Local Government and Maritime communities. The ISL team combines unmatched fleet, maritime, MRO, tactical, and industrial supply expertise and an extensive knowledge of the government procurement and defense shipping process. ISL provides product and logistics solutions within the U.S. Department of Defense (DOD), Federal Civilian Agencies, Homeland Security, Intelligence Agencies, State and Local Governments, select commercial markets and is the trusted partner to organizations worldwide. For more information, visit https://www.incrediblesupply.com.
Contact Information:
Chris Richards
Incredible Supply & Logistics (ISL)
+1.757.955.8077
crichards@incrediblesupply.com
THE MISSION REPORT

ISL NEWSLETTER & PROMOTIONS