INCREDIBLE SUPPLY & LOGISTICS (ISL) ANNOUNCES NEW HEADQUARTERS TO ACCOMMODATE RAPID GROWTH
Feb 14, 2019
Virginia Beach, VA – February, 14 2019/PRNewswire Incredible Supply & Logistics (ISL) an award-winning MRO, fleet, safety, and industrial supply distributor announced today it has moved into new corporate offices and expanded warehouse space at 5721 Thurston Avenue, Virginia Beach VA 23455.
"This is an incredibly exciting time for ISL and marks a huge milestone for the company, said ISL CEO and President Chris Faison. "ISL's new offices are an open, collaborative space allowing for a better work environment for current and future staff and has significantly more warehouse space we need to support our growing global procurement, shipping and logistics services."
The new space reflects ISL's commitment to focus on delivering high touch personalized customer service and has been designed to increase efficiency for all departments. The building is located closer to Norfolk International Airport, is equipped with a new gym for employees and has a larger warehouse to handle the complex domestic and international shipments ISL manages for its customers.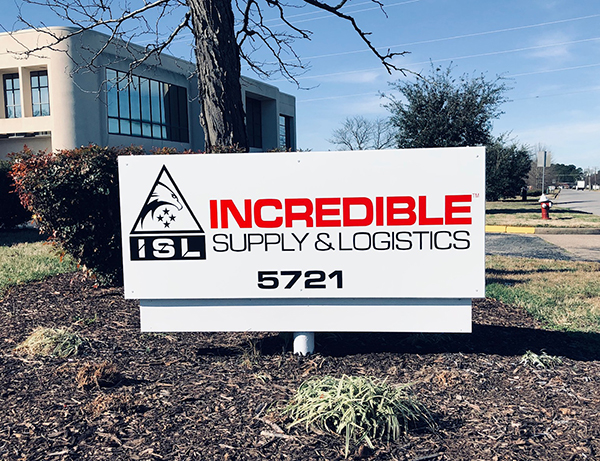 "We believe that our sustained customer growth is in part a result of our emphasis on the quality employee environment we strive to provide," said Bob Faison, COO, of ISL. "ISL is committed to providing our employees with programs, benefits and a unique corporate culture that promotes opportunities for career growth, a healthy work-life balance and, an exceptional workplace. As we look to continue expansion in 2019 and beyond, we now have a world-class facility that can support that growth."
About Incredible Supply & Logistics (ISL)
ISL is a certified U.S. small business, and GSA Schedule Holder (GS-21F-0025Y) offering a full range of logistics and product distribution services serving the Federal, Defense, State and Local Government and Maritime communities. The ISL team combines unmatched fleet, maritime, MRO, tactical, and industrial supply expertise and an extensive knowledge of the government procurement and defense shipping process. ISL provides product and logistics solutions within the U.S. Department of Defense (DOD), Federal Civilian Agencies, Homeland Security, Intelligence Agencies, State and Local Governments, select commercial markets and is the trusted partner to organizations worldwide. For more information, visit https://www.incrediblesupply.com.
Contact Information:
Chris Richards
Incredible Supply & Logistics (ISL)
+1.757.955.8077
crichards@incrediblesupply.com
THE MISSION REPORT

ISL NEWSLETTER & PROMOTIONS