Incredible Supply & Logistics (ISL) Welcomes Chris Richards to the Executive Management Team
Aug 02, 2021
ISL Board Member and Former Vice President of Marketing at Mythics Emergent Group joins ISL Management Team to Help Fuel ISL's Continued Growth and Success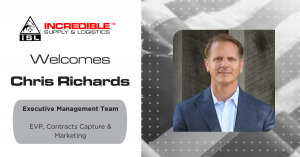 Virginia Beach VA – August 2, 2021 /PRnewswire/ Incredible Supply & Logistics (ISL), an award-winning product distribution, mission kitting and third-party logistics (3PL) company, announced the appointment of Chris Richards to the ISL executive management team.  With his extensive background in marketing, communications, government contracts, government sales, and business operations, Richards brings valuable leadership and experience to the ISL team.
"Chris brings a fresh set of eyes and outside perspective to our business, and we are thrilled to have him join the team," said Chris Faison, CEO of ISL. "He is an incredibly talented executive with a broad range of marketing and sales experience.  I look to Chris to help drive our vision, strategy, contracts portfolio and help generate new growth opportunities with our partners and customers worldwide."
"I am excited to be joining ISL, which has built an impressive and loyal customer base," said Richards. "The ISL team has built a powerful company that helps our public servants, diplomats, homeland security, armed forces personnel and those that support them better serve all the citizens of the United States.  I am honored and proud to get the opportunity to help ISL expand how we can better support so many vital missions."
Richards brings more than 20 years of experience in public sector marketing and sales. Before joining ISL, Richards led marketing and communications at Mythics, Inc. & Emergent LLC, Mythics Emergent Group Companies. Richards and his teams helped achieve 14 years of sustained sales growth and success, helped win many IT resale and consulting industry and partners of the year awards, and contributed to being named top government contractors by Washington Technology and Bloomberg Government.    He also held positions at Cisco Systems, UUNET Technologies, and America Online.  Chris graduated with a B.S. from James Madison University.
About Incredible Supply & Logistics (ISL)
ISL is a certified U.S. small business, offering a full range of product distribution services serving the federal, defense, state & local government, and maritime communities.  The ISL team specializes in assisting defense contractors and government customers with complex Bill of Material (BOM) sourcing, kitting services, and customized third-party logistics (3PL) solutions, faster and more cost-effective than its competition.  To learn more about ISL, visit https://www.incrediblesuppy.com  or @goISL on LinkedIn and Twitter.  #ISLBuiltToServe
###
Contact Information
Chris Richards
Incredible Supply & Logistics (ISL)
(855) 955-8077
THE MISSION REPORT

ISL NEWSLETTER & PROMOTIONS