Incredible Supply & Logistics (ISL) Awarded Five-Year United States Coast Guard (USCG) Contract for Global Lead Acid Battery Supply Chain Management
Jul 11, 2022
Virginia Beach VA – July 11, 2022  Incredible Supply & Logistics (ISL), an award-winning product distribution, mission kitting, and third-party logistics company (3PL), announced today that it has been awarded a five-year contract #70Z08022D17001B00 to supply the United States Coast Guard (UCSG), Surface Forces Logistics Center (SFLC), Patrol Boat Product Line (PBPL) with lead-acid batteries.  The custom battery supply chain solution developed by ISL will support the USCG fleet of over 115 patrol boats dispersed around the continental United States and Alaska, Hawaii, Puerto Rico, Guam, and Southwest Asia.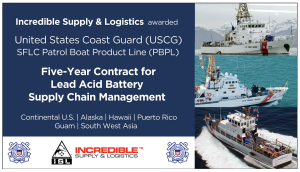 ISL will provide the USCG with total supply chain management of lead-acid battery procurement of numerous types and manufacturers, delivery, pick-up, and disposal supporting the USCG fleet. ISL will also provide a range of value-added services, including battery forecasting collaboration, quality control, fleet end-user customer support, and emergency response services.
"The entire ISL team is proud to have been selected once again to provide a complete lead-acid battery supply chain management solution to help the USCG more efficiently and cost-effectively safeguard our nation's maritime interests," said Chris Faison, Founder, and CEO of ISL. "ISL has an exceptional CPARS rating and track record for quality, schedule, and cost control supporting the USCG, and we look forward to helping them maintain peak operational efficiency."
The contract, combined with ISL's USCG support team, will reduce the man hour-burden expended by USCG personnel on lead-acid battery purchase and disposal, improve delivery lead times of batteries to the fleet, and will result in cost savings for the USCG both in procurement efficiency and in the cost of the batteries.
About Incredible Supply & Logistics (ISL) 
ISL is an award-winning U.S. small business with product distribution solutions and services across workwear, parts, industrial, tactical & IT supply serving the federal, defense, maritime & space communities. The ISL team specializes in supporting government customers and defense contractors with custom supply chain and sustainment solutions, complete Bill of Material (BOM) sourcing, supply consolidation, kitting services, and customized third-party logistics (3PL). To learn about ISL, visit https://www.incrediblesupply.com or @goISL on LinkedIn and Twitter. #ISLBuiltToServe
###
Contact Information
Chris Richards
Incredible Supply & Logistics (ISL)
(855) 955-8077
THE MISSION REPORT

ISL NEWSLETTER & PROMOTIONS