Incredible Supply & Logistics (ISL) Announces Drone Solution Expansion to Support Global Customer Demand and Contract Growth
Jul 26, 2023
Virginia Beach VA – July 26, 2023 Incredible Supply & Logistics (ISL), an award-winning product distribution, supply chain management, and third-party logistics company (3PL), announced today that it has launched an expansion of its drone solutions to support increased global customer demand and contract growth.   As an early adopter and supporter of the air, land, sea, and space drone industry, ISL has built one of the largest global supplier networks of drones and new or replacement drone parts to ensure a robust supply chain for the unique needs of the U.S. federal, defense, intelligence, and diplomatic communities.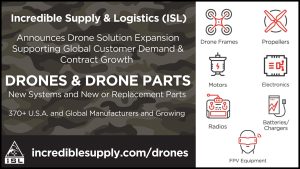 ISL Drone Solution and Product Category Expertise
Ready to Fly (RTF) Drones
Drone Frames
Propellers
Motors
Electronics
Radios
Batteries & Chargers
FPV Equipment
Software, Firmware & Hardware
Systems Integration
System Kitting
Training (Assembly or Flight)
Custom Procurements
"Drones are fundamentally changing the landscape of virtually every industry, including providing vital federal and military applications," said Chris Faison, CEO of ISL. "ISL has been a leader in investment and innovation in global drone supply chain solutions and is committed to providing our customers the systems and new or replacement parts they need to be successful."
"Drones of all shapes and sizes are crucial to reconnaissance, surveillance, and strike for the United States and its allies," said Chris Richards, EVP of Contracts Capture and Business Development of ISL. "ISL has developed a global partner network of leading drone and drone part manufacturers to ensure the United States and those that serve her interests have the most robust product availability and supply chain to support operations now and in the future."
About Incredible Supply & Logistics (ISL) 
ISL is an award-winning U.S. small business with product distribution solutions and services providing ONE SOURCE across industrial, parts, tactical, workwear & IT supply serving the federal, defense, maritime & space communities. The ISL team specializes in supporting government customers and defense contractors with custom supply chain and sustainment solutions, complete Bill of Material (BOM) sourcing, supply consolidation, kitting services, and customized third-party logistics (3PL). To learn about ISL drone solutions, visit https://www.incrediblesupply.com/drones or how ISL can help you achieve your mission on time and within budget at https://www.incrediblesupply.com.
###
Contact Information
Chris Richards
Incredible Supply & Logistics (ISL)
(855) 955-8077
THE MISSION REPORT

ISL NEWSLETTER & PROMOTIONS